What is CMS? Which CMS is Suitable For Your Website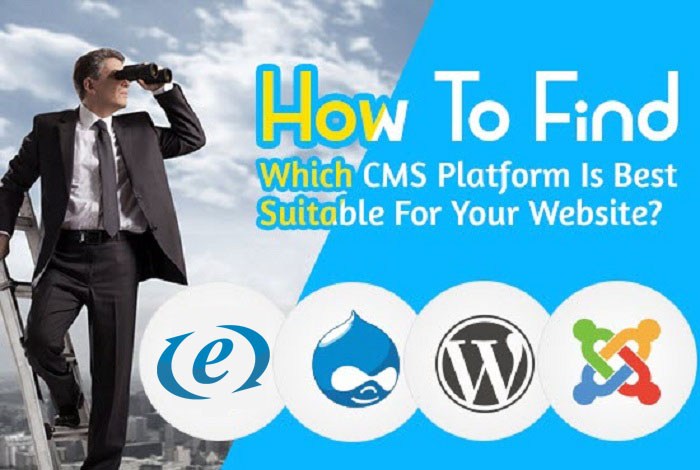 Content Management Systems
Are you a content manager of an organisation and have to deal daily newsfeeds etc.? Or are you a passionate blogger and need to organise all those content you produce? Content Management Systems is the best choice for the people like you. These provide you with a framework for organising all the content that you have developed and publishing that on the web.
Diving in a Little Deep
Content Management system (CMS) is a favourite tool in the internet industry as it helps site administrators' display their information amongst masses. This CMS or management system does not have to be online and can be used efficiently in the organisations that have more expansive needs.
The content management system allows multiple users or bloggers to manage content information on the websites or project on an internet application. It has the capability of providing the users with the permission to access partial or entire content available. Using this tool you can have a centralised control over the content you produce and arrange this information in a sequential manner. This tool is mostly being used in the fields of e-commerce, blogging and web applications.
When I mention "manage content", I mean developing, editing, filing, reporting, gathering, information and data. Think: blog. These are sites that require regular maintenance and upkeep to remain just as interesting for the readers. That's a lot of content for multiple people to handle; therefore, a CMS can make your life easier.
Don't miss: How to choose an best CMS
Some of the Best CMS:
So now you have a quick idea of what a Content Management Software (CMS) is all about. Now which CMS to choose? Or what all CMS choices do you have? For this we list to you, the five top CMS utilised today along with the features that they offer.
1

WordPress

Started in the year 2003 as one of the blogging sites WordPress has become one of the most loved tools for content management. What separates WordPress from the others available in the market? The answer is – its simple user interface. WordPress has the most interactive user interface along with easy to use controls. You don't require any specific technical skills to design your website and host it in no time. For refinement, you might require some back-end knowledge; however, that is not at all a necessity.

WordPress provides numerous free templates for you to use and hence create an eye-catching website. All you need to do is install WP and configure it according to your choices. This CMS is extremely flexible and offers you many interactive features to add to your website. And the best part is that it is totally FREE!! Yes-free! You can design the website all by yourself without paying any amount to the website developers.

Don't miss: 10 reasons to choose WordPress over any other CMS
2

Drupal

Similar to WordPress, Drupal is also an open source CMS available for designing your blog or website. Numerous popular websites such as the site of White House etc. have chosen this platform for their development. And there is probably no reason that this CMS cannot suit your needs. Unlike WordPress, in Drupal, you have ultimate control over the URL or the permalink of your site. This CMS is search engine friendly and ranks higher than other competitors such as Joomla.

A USP of this CMS is that it allows you to uniquely classify each content page as a blog, story, podcast, etc. You can create numerous categories in Drupal and let the software known how you want this category to be displayed.
3

Joomla

Ranked amongst the top three, Joomla is considered a bit different CMS than WordPress and Drupal. With Joomla, you can handle a site with heavy article content with much ease. Although Joomla doesn't have a much interactive interface or customizable functions, it provides features that are in the middle of these two. Blog users might be very much amazed at the features that Joomla offers with regards to article management.

Other features that you get in this CMS include image resizing, advertisement management, content scheduling, metadata customization, etc. And again, all these things are available at absolutely no cost.
4

Expression Engine

Ranking fourth on the list, expression engine is a CMS, which is a combination of open source and paid versions. By the combination of open source and paid, we mean that to get its services you need to spend in a couple of bucks, but once you purchase it, you can customise it according to your needs and add your own plug-ins. This CMS is also very user-friendly and one can work both in the back end as well as in the front end.

Some features that it offers on administrative level include data export, extension manager, site membership, etc. On user level, you can manage user profiles, create member groups, etc.
5

eZ publish

eZ Publish is again one of the popular CMS available and utilised. However, this supports a lot of functions but for working with this software, you need to have some basic technical knowledge. It is not meant for the people who cannot dig in to customise their source code. The USP of this CMS is that it offers numerous functionalities at a single click. Anything that you need to add to your blog or website, you can directly download it from the downloads section.

This is more of enterprise management software, however, is helpful and very easy to use for bloggers with a bit of technical knowledge.
Does having a CMS alone solve all your issues?
So do you think that having a CMS alone can solve you issue? Think again. Having a CMS might solve the majority of the issues for you, but there are some restrictions to this as well. For example, consider a case where you have WordPress as your CMS, which provides a user-friendly interface and easy controls. However, now you decide on to add log-in functionality to your blog, for this, you would require some back end programming knowledge, only after which this issue can be resolved.
Similarly using a CMS doesn't guarantee that your website or blog will be successful, rather CMS will produce the most organised content, but it will be you who will be responsible for successful marketing and quality assurance of your content. If you only depend on CMS services for your blogs to be successful then my friend you will be left disappointed.
Conclusion
So, after going through all the CMS options available to you, you may conclude that WordPress is the best, which is not wrong. If you are a beginner in the field of Blogging, then, WordPress is undoubtedly the best for you. You can read more about this in my article Why WordPress?