What is Blog Bounce Rate and How to Reduce it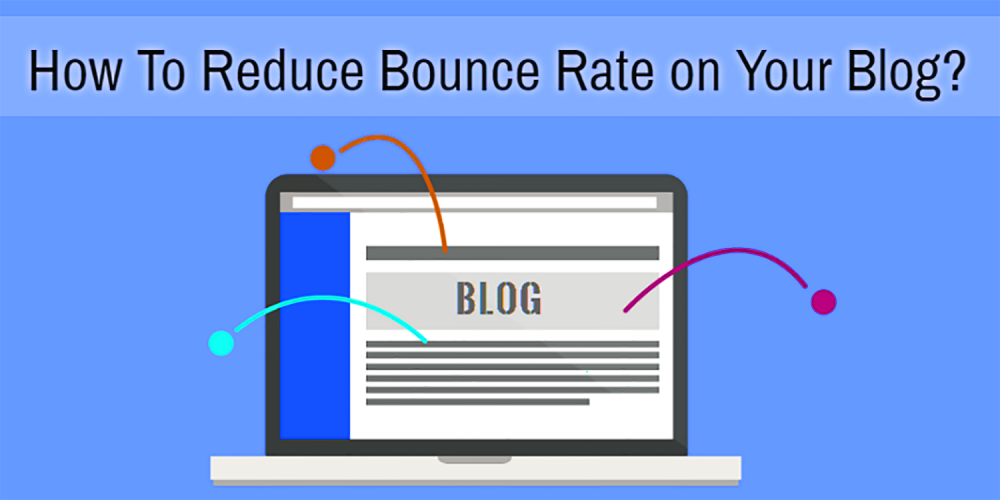 Most of the people especially those in the field of internet marketing and website development might have come across the term 'bounce rate'. But what exactly is bounce rate? Why is there so much hype with regards to this term? Let's get to the task of decoding this word and knowing how exactly this affects the performance of your website. We keep implementing various strategies to drive maximum traffic to our website. We keep focusing on driving maximum visitors to our site but never think that if we cannot convert our visitors into readers then driving traffic is not even worth it.
With this statement what I exactly mean is that if our website reaches a level where it gets thousands of hits in a day but all the visitors leave the site just after visiting a single page then it is a negative factor which needs to be corrected as early as possible. This is a signal that the site is not a quality one. The user gets to your website from various sources, but he/she does not get engaged on your site, hence doesn't open more pages and therefore leaves. Now let us move on to the concept of Bounce Rate.
If you are familiar with Google analytics tool, then you probably might know that these tools are very helpful in understanding the performance of your website. 'Bounce Rate' similarly is one of the standards or units of measurement used to tell the administrators how well is their site is performing. This metric tells you whether the people who are visiting your site are finding what they were looking for. This further provides an idea about whether the people find your website useful and if they are interested in exploring it further. It is a factor which determines what people are doing after they come to your blog? Whether they jump to a new website or just close your site? So basically, the Bounce Rate is the Success rate of a Blog.
This measurement is an integral part of many e-commerce sites as it helps the company know how well the customers are engaging with their website and how likely they are going to buy the products offered.
This was what the bounce rate is in general. Now let us dive in deep and see what bounce rate is and how does it work.
What exactly is a Bounce Rate?
A bounce rate in technical terms is the number of visitors who arrive at your site and then leave the site without exploring the website further. Such visit of a user on your website is known as a bounce.
To get the bounce rate of a particular website for a particular time, you need to divide the number of bounces by the total number of site visits during that time and multiply the result by 100. For instance, say your site gets 500 visits in a 24-hour period, of which 200 are bounces. Your site's bounce rate is along these lines (200 ÷ 500 × 100) = 40%.
You can likewise get the bounce rate for every page visit. For instance, if 500 visitors enter your site on a particular page, and 200 of those visitors leave without exploring any other pages, then that page's bounce rate is 40%.
How is Bounce Rate Important for Your Website?
Bounce means that a visitor came on to your website had a quick look at the page he visited, did not find the content he was looking for and hence left. This bounce rate plays a crucial role in determining the performance of your website among masses. To summarize:
A lower value of bounce rate shows that the site is drawing in the right sort of crowd and that visitors are being engaged by the content provided on your website.
A higher value of bounce rate tells that visitors aren't finding what they're searching for when they land on the site and are going back to find some other resource for the information they are seeking.
So if you are running a blog, a higher bounce rate is a concern for your blog. This tells you that people are not browsing through your website and leaves it just after visiting a single page. Again, if your aim is to get your visitor subscribe to your newsletters and create an account the higher bounce rate will tell that you're drawing in the wrong sort of visitor to your site.
In any case, a high bounce rate isn't a terrible thing. For instance, if your site, for the most part, has information, such as articles then your bounce rate is bound to be high. This is because visitor tends to scan for a particular subject, discover your article page, read it, and after that since they have what they need to leave your site (preferably by clicking a back button).
Again if you want your people to contact your through your sales line then again a higher level of bounce rate is acceptable provided people reach to your through the number provided.
But it is always beneficial to lower the bounce rate for your website and hence engage your visitors. For instance, you may need a visitor to subscribe to your newsletter or leave a remark on an article.
What is a "decent" bounce rate?
So what is an adequate measure of bounce rate? This question is a bit difficult to answer; a bounce rate fluctuates to a great extent from site to site and business to business.
Still if you want to get an estimate then for an e-commerce business which requires customers to engage a bounce rate of around 20-50% is acceptable. However, in case you are running a blog on a particular subject, then the bounce rate will be somewhat in the range of 60-70%.
8 Quick Tips to Reduce Your Blog Bounce Rate
Although you might have the idea of how to reduce or lower the bounce rate of your site, below are some quick tips that can help you further:
1

Provide a clear navigation of your site

If a client can't discover what they're searching for, they'll take off. So, make sure that your blog is easy enough to navigate and the readers find it extremely comfy in navigation on your complete site.
2

Open External sites in a New Tab

Don't commit the mistake of opening external links in the same tab. Obviously, to reduce the Bounce Rate it is important that a reader stays on your site. If you will send him to another one, then it becomes tough for him to come back to your site. While, it would be much easier for him to change the tab.
3

Loading Time and Design

Perfect design with a lesser loading time is the best combo. Be careful about any third-party widgets or content — they weigh down the site and expand load time.
4

Make sure that your content is easily readable and understandable

Be cautious about text dimension, contrast, etc., mainly because people today tend to search information on the little screens of cell phones. Therefore, if your articles are not easy to read and comprehend, then you are on the way to increase your Bounce Rate. read how to write a post
5

Site Responsiveness

Invest in a responsive outline, which will adjust to any screen size and enhance the client experience.
6

Using a Zero Bounce WordPress Plugin

This is a remarkable plugin which works fantastically to reduce the Bounce Rate of a blog. It operates in the following manner – When a visitor lands on your blog from various sources, whether it be social sites or search engines, and he clicks on the back button, (the primary reason for high bounce rates), you can redirect these visitors to any page of your choice. I highly recommend this plugin for your blog as after installing this plugin you may see some great results.
7

Search Box and Relevant Links

Put a Search Box at the place on your Home Page, where it is clearly visible. The reader won't be able to reach the information he wants without a Search Box. Also, post relevant articles. Irrelevant articles will not do anything except irritating your readers.
8

Internal Linking

Internal Linking is a must for the reduction of the Bounce Rate. If you are using WordPress, you can use plugins like WordPress Insight plugin to find related posts while you're writing your blog posts. You can also use SEO Smart Link Premium to auto- interlink posts with your desired keywords. This is the most important tip which will genuinely decrease the Bounce Rate of your blog. Not only this, but it will also increase the visitors' average time for which they stay on your site, and they will read more of your pages.

So this was all from my side regarding Bounce Rate and the tips to improve it. Apply these tips and experience the difference!