Top 10 Free Online Screen Recording Software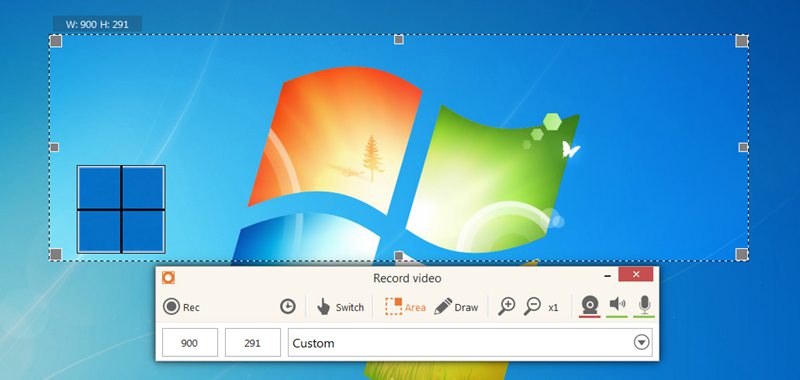 Screen Recording is one of the best ways to consume time and to carry forward your process done on your system by recording it. The recording is the beneficial tool which can be used further any time by everyone; it helps us to know that what has been done before. So there are some of the most advanced software's and applications which are very useful to you for screen recording available online for free.
1

Screencast-O-Matic
Screencast-O-Matic is one of the most popular screen recording software of the time, which is used to create video demonstrations. It runs on Java but still it has become a mixture though it can also be run offline after installing it. It comes in both free and PRO version in which free version allows 15 minutes of recording, set in with a watermark to the video. The recordings will be able to publish on both YouTube or Screencast-O-Matic and the file will be saved as MP4, AVI, FLV or animated GIF format. It also facilitates us to capture sound, webcam or we can specify the region that we want to record. Video editing options and some more features are enabled in the PRO Version, which costs $15 per year.
2

Screenr
Screenr is an online application for screen recording which runs on Java. It mainly targets business users for its PRO version on a starting plan of $19 per month. Free usage is limited with its features. You need to sign up if you are new to Screenr, and its free account allows maximum 5 minutes of recording. You must need to sign in with whichever Facebook, Twitter, Google, Yahoo, LinkedIn or Windows Live ID to form your Screenr username. Whereas the setup of its free account is cut down with this method, not every user is ready to attach their account with Screenr. Also, you can only download the video in MP4 format or publish it to Youtube.
3

Screencastle
Screencastle is also an online application that runs on Java like others. You can make unlimited recordings here but cannot add watermark to them. You can record your microphone and state its region to record. Upload the video anywhere you want to share. ScreenCastle is not loaded with many features, but still it is very easy to operate amongst any other screen recording software.
4

Jing
Jing is like a short version of Camtasia. If we compare them, Camtasia is one of the most popular and useful software for screen recording formed by Techsmith. You cannot edit videos at Jing and recording limit is 5 minutes. For screenshot, it offers some basic image editing tools like add arrow, text, frame, and highlight. You can save the snapshot or video recording anywhere, or you can upload them to screencast.com. Jing also offers its Pro version that ends your 5 minutes of recording limit, but it makes this discontinue and recommends you go for Snagit. It needs to create an account so that you can share it across the web.
5

HyperCam
HyperCam is launched by the creators of the best screenshot tool, HyperSnap. Its latest edition HyperCam 3 is presently sold and maintained by some different group but its previous version 2 is available for free. HyperCam 2 enables you to record both video and sound including closed or translucent windows. Its unique feature which makes it different from others is the ability to move the recorded region. All recordings done in HyperCam are saved in AVI format, and no tools are available for editing videos. It receives reminder during installation because it prompts to install adware.
6

CamStudio
CamStudio is one of the most popular and used desktop screen recording software, but its development brings to a standstill because of no update in the software since last 2 years. It offers you some unique features like recording sound from speakers, auto panning where the recorded area by design follows the mouse cursor, using a custom mouse cursor and saving the recording to SWF by converting from AVI.
Make an important note that Visual C++ 2008 runtime components need to be installed, or you'll get errors while running on this application CamStudio
7

SCREEN2EXE
SCREEN2EXE is only one of its kind and unique screen recording software amongst all. It enables you to create an output file from a completed file which simply means you can play any video directly without relying it on any media player or codecs on your system. One more exclusive feature of SCERRN2EXE is it can resize the file by removing identical frames. It also provides us some other editing tools like adding annotation, mosaic, cut-clip, image, zoom/focus and audio-redub.
8

Bandicam
Bandicam in point of fact is a shareware which allows you 10 minutes of free recording with watermark too. So it is a fine alternative than Fraps in comparison. The recordings done by Bandicam are saved in AVI format only. We included Bandicam in this list because of its unique feature that it is capable of capturing video game screen through OpenGL or DirectX hooking. Also, it can run on any computer either it has a slow processor because Bandicam consumes very less CPU usage.
9

Webinaria
Webinaria is a simple and easy to use desktop screen recorder which enables you to record your computer screen, sound, camera but that is without watermark or recording limit. The files recorded in webinaria can either be saved as AVI or FLV, or you can publish it to webinaria's website. It also has a simple video editor which helps us to add text to the video or recording.
10

ActivePresenter
The last software of this list is ActivePresenter, but it does not mean that it is the worst amongst them, if we compare them all ActivePresenter is the most powerful software by its features without watermark or time limit. It has 3 versions and the free version of ActivePresenter loaded with as many features that it can easily beat the other 9. Rather than creating no time limit and recordings without watermark it can also capture screenshots. Video files can be saved as AVI, MP4, WMV and WebM. It also enables you to edit videos as you can insert marginal note i.e. shape, highlight, spotlight, text, closed caption (subtitle) and feedback. Textboxes, mouse clicks, keystrokes and mouse hover, can also be created by using ActivePresenter.
Conclusion:
These are some of the best available options for screen recording available online for free. The applications and software we explained you, will not only help you in screen recording but will also avail you of so many different features like sound recording, screenshots, video editing and watermarks on video, etc.