Prevent your Google Adsense Account from getting Banned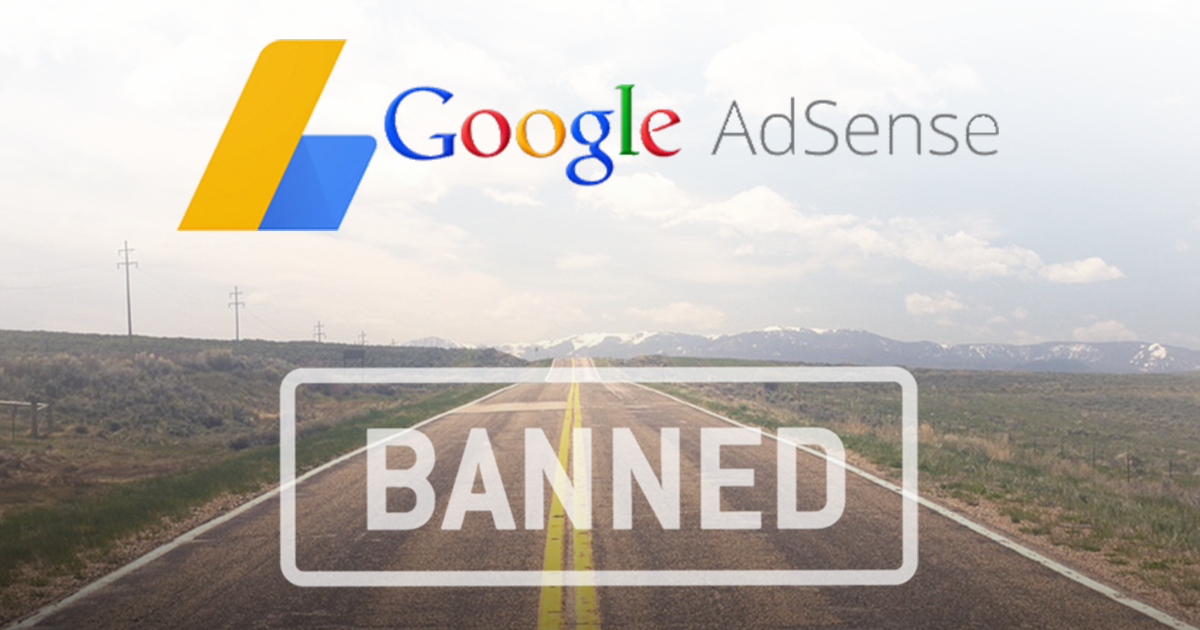 Scared of getting your Google AdSense Account banned?
Everyone knows this very well that it is not an easy job to get Google AdSense approval, and even after getting the approval bloggers are afraid of getting banned as Google is extremely strict about the AdSense Terms of Services. You have to take care of certain norms and terms and conditions to prevent your blog from getting banned from Google Adsense.
These are some of the mistakes which Google AdSense publishers usually commit and they must try to avoid these faults to save themselves from getting banned.
1

Invalid Clicks
The most common committed mistake is Invalid Clicks which takes your account to the danger zone of getting banned. Your account gets banned only when you try to act smarter than Google. When a publisher starts with Google AdSense, in over excitement, he asks his friends to click on the Ads and increase his page views by opening a few numbers of pages. He runs his brain and asks his friends to click on the advertisements with different IP addresses. And then, whenever the AdSense team perceives this activity, they disable your AdSense account. So please don't try these foolish activities to increase your Ad clicks.
2

AdSense on Unsupported Language Blogs
If your Google AdSense account has been approved and you are using that account for a blog in the language which is not supported by Google then kindly make the changes as there are bigger chances of getting banned. These are the languages which qualify the AdSense TOS (Terms of Services).
To get the list of AdSense supported languages click here
3

Making alterations in AdSense Code
If you are an amazing programmer and you are implementing your skills in making alterations in your AdSense code then this is one of the worst things you are trying to do because this is not at all permitted by Google. Also, if you're great in using Adobe Photoshop and you think you'll make a clever move by adding Google AdSense image with adjacent image then wake up. Doing this might ban your account. Google TOS does not permit you to shade your AdSense images with other images.
4

Publishing copied content
If Google has accepted your application of AdSense and you've become successful in getting AdSense account and now you want to save your time of writing articles and you take a smart step of uploading copied posts on your website then you're completely trapped in the threat zone of getting banned. You must know how to start writing a proper blog.
5

Hosting Copyright Content
If you're using Google AdSense for a site which contains copyright contents like songs, movies etc then also you're in risk as this is not allowed.
6

Linking To Wrong Sites
You've to take extreme care while adding links on your site as even if your site doesn't have any copyright or illegal content but you're linking to sites having stuff like pirated software, or illegal content etc, Google will ban you.
Here is the list of content which is not allowed for Google AdSense
Porn, Adult material

Violent content

Racial content

Hacking/Cracking

Gambling/Casino

Pages selling Drugs, Alcohol (Beer or hard alcohol)

Pages selling Weapons and ammunition

Distribution of course work. Eg: Student essays
7

Advertisement Label
A big no to tricks like Click here to download this paper, Click here to make new friends etc. This is an activity which encourages clicking on the Ads. This may lead to a big trouble for you.
8

Using other Advertisement Programs
Don't use other advertisement programs as Google may not like it. It decreases the gravity of your website. Still, you can use some advertisement networks like Infolinks, BuySellads etc as they fit in AdSense TOS.
So now I've shown you all the pits, which will attract you to put your feet in them. Don't commit these mistakes and enjoy monetizing online.