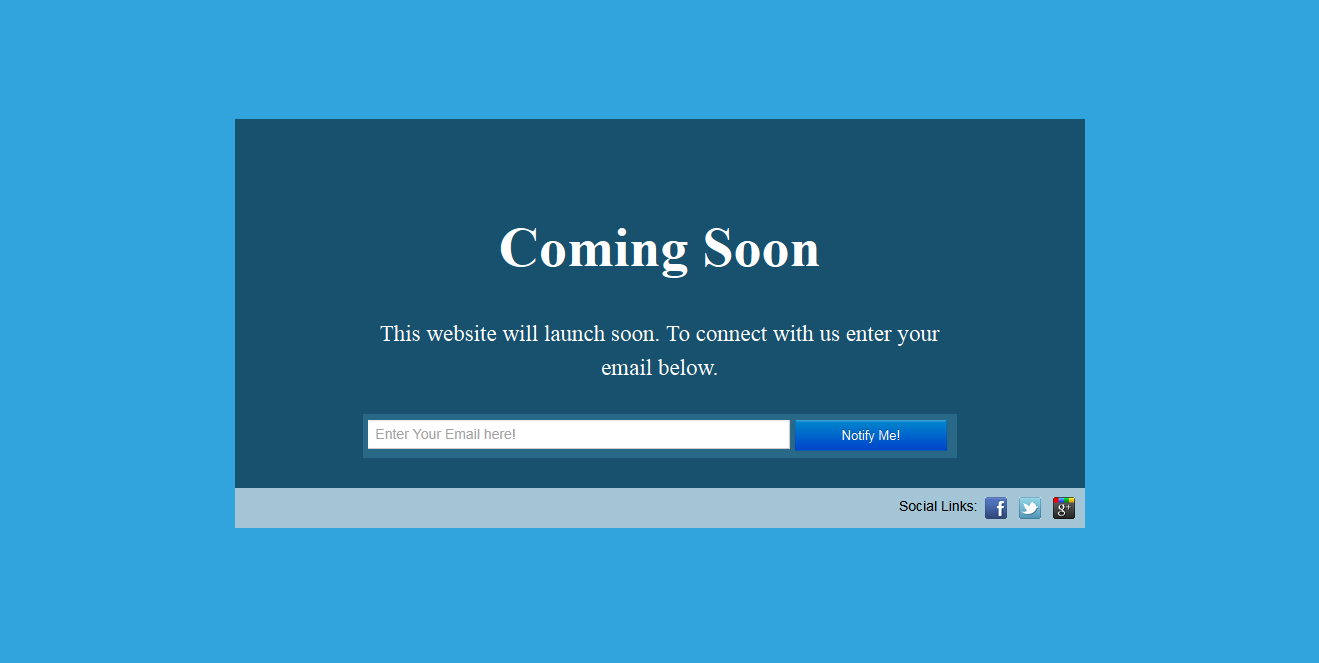 Adding A Coming Soon Page
You have a great idea and a full proof strategy and you want to implement it then the gravity of your idea is equally important. It is extremely necessary to generate curiosity among your readers that you are launching something extraordinarily great for them. When you think of bringing your idea online, first of all you'll purchase a domain name and a web hosting for your site. Then you'll install any of the web builders but obviously the development of your website will take some time. Till then if you'll show them your development, they will lose interest in your idea. And while you're working you'd rather not have the world faltering across a half-finished idea and terminating it before you even get things off the ground. This is the situation where you require putting your website Under Construction Mode or display a Coming Soon Page.
You need a Coming Soon Page or Under Maintenance Mode when either you're launching your website or you want to edit it. So let us now see how to put your website under Maintenance Mode in WordPress.
Here are some Plugins and tools. You can use anyone of them to accomplish your task.
Also Read: List of Top WordPress Plugins
You'll be shocked to know that there exist more than 700 plugins in WordPress only of this Maintenance / Coming Soon Mode. I'll discuss a few of them which are easy to use and are better than others.
First of all introducing you with the list of TOP 20 Coming Soon Plugins which can be used to display a Coming Soon Page on your website.
Azul Coming soon Page
Under Construction and Maintenance Mode by Seedprod
Easy coming Soon Plugin
Alissa
BootStrap Coming Soon Page
Ultimate coming Soon plugin
Sunshine Launch Coming soon Plugin
Minimal Maintenance Mode page
Coming Soon CC
Site Offline Plugin
You can use any of the above mentioned plugins to display a Coming Soon or Under Maintenance Page on your website. Among all these Plugins Azul Coming Soon Plugin and Under Construction Plugin by SeedProd are best to use. You can also go with Easy Coming Soon Plugin.
Installing a Coming Soon Page is extremely easy. You just need to install and activate the Coming Soon Plugin of your choice.
To Download the Plugin follow the following steps:
1 Open your Dashboard
2 Select Plugins –> Add New
3 Enter the name of the Plugin you want to you use in the Search Box
4 Click on Install Now and then Activate Plugin
5 Your Plugin will get activated
The best part about this Plugin is that your viewers will see this page, but once you'll login with your WP account on your PC, you'll be shown the changes you're making on your site.
Do this today itself if you want to create a hype of your site and want to make people realize that yes you are working on something really big. All the Best!!