Readability Test- Flesch Kincaid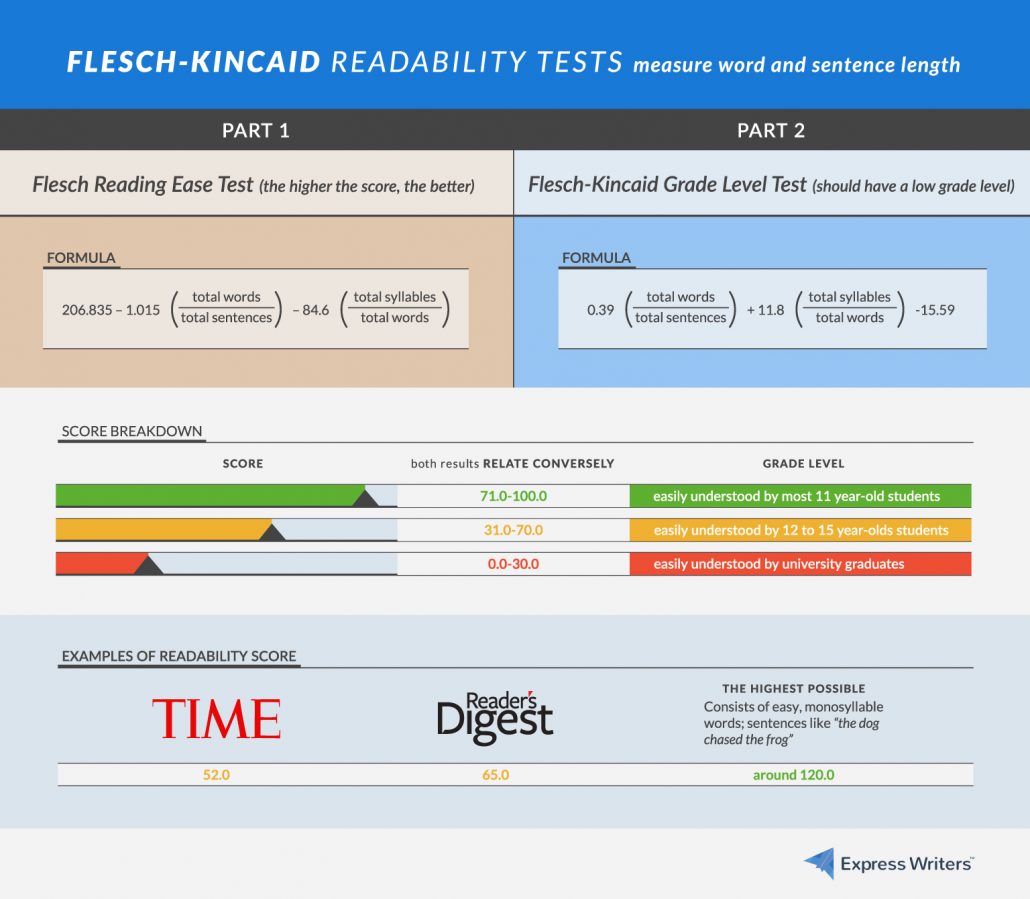 Flesch Kincaid Readability Test
Haven't heard about it ever? Basically, Flesch Kincaid is a readability test which indicates how easy or difficult an English passage or an article is to read and comprehend. If I define readability then it would be the ease with which a text can be read and understood by a reader.
So, to test readability, there are many ways. I'll tell you some of them for examples. These are the most commonly used methods for testing readability.
Flesch readability Test

Flesch Kincaid Readability Test

Coleman Liau Index Readability Test

Gunning Fog Index Readability Test
Out of all these, Flesch Kincaid Readability is one of the most ancient and the most accurate readability formulae.
Readability of an article is tested on various factors like the number of words, syllables and sentences. Also, it's calculated that on an average a sentence comprises of how many words. The shorter a sentence is, the easier it is to read and comprehend.
Flesch Kincaid readability test gives a score to a passage by calculating its readability according to various factors. The higher score an article gets, easier it is to read. And lower the score an article gets, more difficult it is to read. So your article is better and easier when it gets a higher score.
Moving on to the formula of the Flesch Kincaid Readability Test
Formula

206.835 – 1.015 ( total words / total sentences ) – 84.6 ( total syllables / total words ) – 15.59
If your score is between
0 to 30.0 then this means that it is best for University Graduates

0 to 70.0 then it is for 13-15 year old pupils

0 to 100.0 then it easily comprehended by an average 11 year pupil
Whenever you publish an article on Google, it tests the readability of your post and it is considered as one of the factors of SEO.
You can check the readability of any of your article or passage or document by clicking here.
You'll be happy to know that this tool not only test the readability of your article but it also gives you suggestions like which sentences can be re-written to improve the readability score of your article.
You can also improve the Grammar of your article by Grammarly. This is the best Grammar checking software.
I suggest that every blogger must also use a tool named Hemingway. It offers you an online editor which also tests the readability of your article. You can read and learn more about readability on Wikipedia.
I've suggested you 3 important tools in the above article which will definitely help you in increasing the readability and grammar of your articles turning you into a better content writer. Thank you.