Best way to optimize mobile application to rank higher on Google play store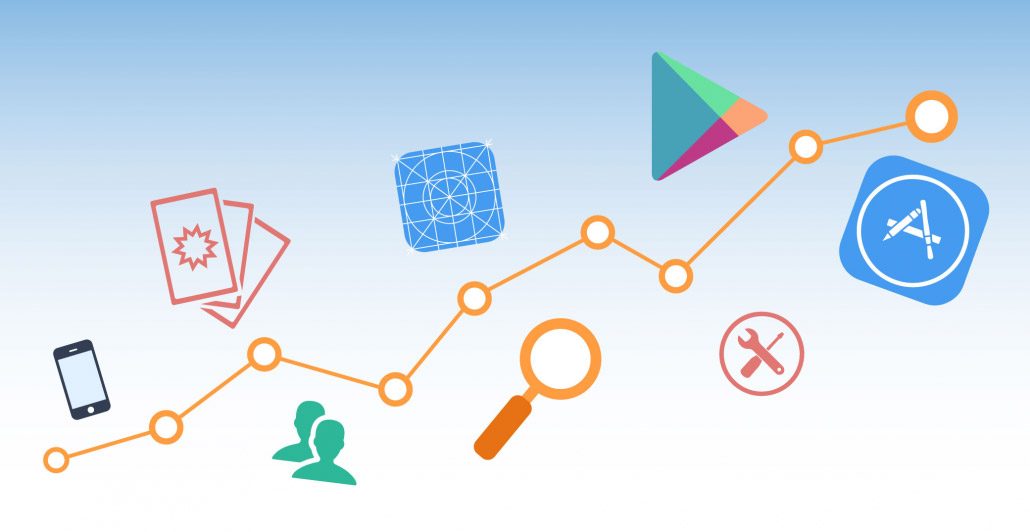 Say, you want to download a photo-editing app. This is what you would do:
Go to the Google Play store.

Type 'Photo editor'.

Go through the ratings of all the apps present in the list.

Select the app with the highest rating. Check out its screenshots and reviews. 

Sometimes, people don't even bother following step numbers 3 & 4. Because it is assumed that whichever app is placed at the number one position in the search list is the best!

Finally, you'll download that app.
A lot of people who love technology and believe in making life more convenient have been developing diverse applications. So many people have started developing apps that there is a cut-throat competition out there for making their respective apps more sellable. So, what can be done to make your application rank higher on the Google play store so that it qualifies for the abovementioned step numbers 4, 5, and 6?
Start with making your app a little out of the box. Everything about your app should be eye-catching. Also, a few other parameters affect the ratings of the app too. Here are a few factors that you would want to know about:
Name of the app:

The name of your app should be concise; defining the purpose of the app and at the very same time it should be appealing too. The name of the app should be such that it appears when the relevant

keywords

are searched for in the play store. For example: if your app is an English language tutor, name it such that it will appear in the list when keywords like 'Learn English' or 'English tutor' are typed. 

Use of appropriate screenshots:

Every person who is willing to download any app is curious to know what the app would look like once it is installed and starts functioning. Hence, the use of good images and screenshots in the description is of the utmost importance. 

 

Responding aptly to the customer feedback:

If you want your audience to grow, solve their problems and keep them happy. Respond to the comments posted on the Play Store page: if appreciative comments- always thank, if the comments are a few technical glitches- respond by saying that you are sorry for the inconvenience caused and you will take care of the issues and fix them accordingly.

Description:

A good and brief description of the app is like half the battle won. The description has to be framed in such a way that the salient features are highlighted, and factors that make your app better than that of the others' should be mentioned.

Publicize your app:

Spread it everywhere! Let as many people as you can know about your app. Use television, social media, newspapers, and blogs to promote your app. Endorsing may or may not be free, but it is worth the expenditure (if any). 

App storage size:

One would not want to download an app that would consume a lot of their phone's memory. Apps of smaller size are always expedient to download and use. The smaller, the better.

Apps for all devices:

Who doesn't want iTunes on Android phones?! Don't disappoint people! Make apps compatible with all kinds of devices and android versions. Ensuring this would widen your audience. 

Keep updating:

Keep introducing new features to your app to make it better. 
Now, these were some things you could work upon. But how does Google Play Store rank your app? It depends on App Store Optimization (ASO) which considers the following points:
A number of downloads:

If more people have downloaded your app, it will be ranked higher than others.

A number of installs:

Sometimes it so happens that people download an app but don't install it. Installations are as important as downloading the apps.

A number of uninstalls:

This is definitely not good. Uninstallations will pull down the rank your app on the Google Play Store.

It is also possible for your app to soar above every other app if it has terrific ratings, despite having very few numbers of downloads. The vice versa is if the app has many downloads but poor ratings, the negative ratings may hamper the rank. The possibility of the latter happening is very less, though, as, if lots of people have downloaded your app, it's generally because they have liked it.
There are a few other apps and websites that will help you track the progress of the app, providing you with data about downloads, reviews, and revenues, etc. Here are a few that deliver marketing and mobile analytics solutions:
AppAnnie

Localytics

Flurry

Fiksu

Mixpanel

4INFO

SimilarWeb
Last but not the least, it is very crucial to know to your potential customers. You can't develop an app for teenagers and try selling it to 70 year-olds. So, find your potential customers and try to focus on endorsements for them. Once you know your customers, it won't be difficult to decide what mode of publicity you will need.