What is SMO? and 8 Benefits of Social Media Optimization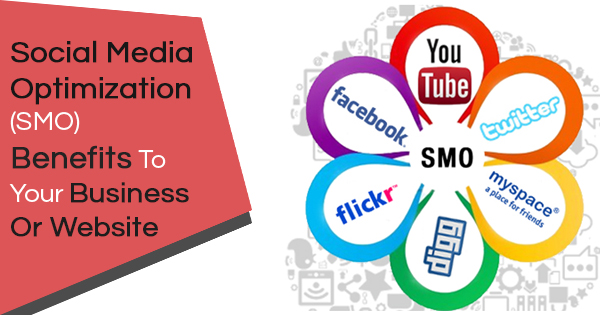 'Social Media' at present is what excites everyone the most across the globe. It is indeed one of the biggest creations of the 21st century. One small news even in the farthest corner of the world reaches every single individual with the help of social media. Different news across the face of the earth or even in the outer space is now accessible with the help of social media.
In the last decade we have seen Web evolving from just a limited information sources to a global phenomenon which gives every individual access to more information, more resources and social connections than we have ever seen in the history of Internet. What we are actually talking about is the importance of Social Media Optimization (SMO) and how exactly it has become important part of our life.
What is SMO?
Don't miss What is SEO?
Social Media Optimization actually refers to creation of such contents on the Internet that can be shared through different kinds of social networks.  It is also referred to as the next wave of online marketing. Social Media Optimization incorporates social media sites like Facebook and Twitter as well as RSS feeds and all kinds of blogging and video sites for example YouTube. If used in a correct way, social media can be the greatest asset for improving the site's search results.
It connects us with different people and one can extend the reach of his business and can also amplify the opportunities.  As a business at this time in the world, one can't exist without addressing the critical issues of online visibility and customer interaction. This is what SMO actually does. SMO is very similar to SEO (Search Engine Optimization) in a way, as the the main target of both the processes actually remains to generate relevant traffic and increase the visibility of a website in the main search engines mainly like Yahoo, Google, Bing etc. So, both SEO and SMO helps you to promote any given website and its contents by sharing them across different popular social networking sites like Facebook, Twitter and even the media sites, but SMO is more popular right now as it gets faster results for the website as compared to SEO which is comparatively a slow process.
Though Social media optimization can also be very difficult because many times it proves to  be very difficult to come up with contents that can be consistently shared. But It is gaining a lot of noticeable importance because social sharing is being integrated in search results. It has now become one of the most effective strategies for promoting and improving online business and marketing.
SMO basically involve two steps:
1. The creation of shareable content
2. Addition of social sharing tools to make it easy for the users to share.
8 Benefits of Social Media Optimization:
1Firstly, with the help of SMO one can establish a brand and raise awareness about things people haven't heard of or known much of.
2SMO reaches out to a wide range of audiences and also helps in driving more traffic on the internet.
3It allows others to make use of your content. YouTube is a very good example of this. YouTube allows you to download videos to the websites in order to enhance your content. The positive result is that it will drive increased traffic to the website.
4Bookmarking and tagging can also be used more easily by using content features such as "add to Facebook" and other bookmarking sites.
5SMO also helps in bringing attention to various ranges of products and also helps one to  compare between different qualities of products. Speaking to the customers on the sites will comfort the customers and leads to a better relationship with the customers. It also improves the chances of customer recommendations.
6For an individual SMO helps in building a reputation because it allows one to get his name out to the world. It also helps one to look for a job or even display his resume. One can also showcase one's talent out to the world or even connect with professionals across the globe to get advice.
7It also helps an individual to create business contacts and share information with anyone he would like to.
8SMO also helps in connecting with long-lost school friends, classmates, old colleagues or even out of town and out of country family relatives.
It may now be easy for you to understand from above points that SMO is simply a nowadays technique and it helps to promote any given website and its contents by sharing them across different popular social networking sites like Facebook, Twitter and even the media sites.
What is the general procedure or method to implement SMO to your website?
First Rule is to keep your site updated which means avoid keeping your website static for too long.

The second rule is that content's linkability should be higher to get maximum benefits.

Another good step would be to create a blog which will boost your incoming audience. 

Submit your contents like videos, audios or PDFs to relevant sites.

Don't encourage irrelevant submissions, remember submitting to a relevant site only will work wonders for you.It will make your content more visible which in turn will bring you more audience or organic traffic.

Allow others to share and bookmark your content, it will definitely help you grow and will increase your visibility.

Add quick buttons to make tagging simple and fun but again the golden rule is to use relevant tags.

Another important quality needed for successful SMO campaign , is to be focused. Focus on a particular website( eg. Reddit) and target your audience
Success of Social Media Campaign varies from one individual to another, depending upon the business goals of each person. Sometimes it is a part of direct response or sometimes the objective may be simply of Branding your business or Brand engagements. So different parameters are for measuring your SMO campaigns success. Social Media Optimization is the easiest and the fastest method to encourage more traffic to your website. So start with it and take your website to another level of earning…!!