How Do Free Apps Make Money – Free Apps Monetization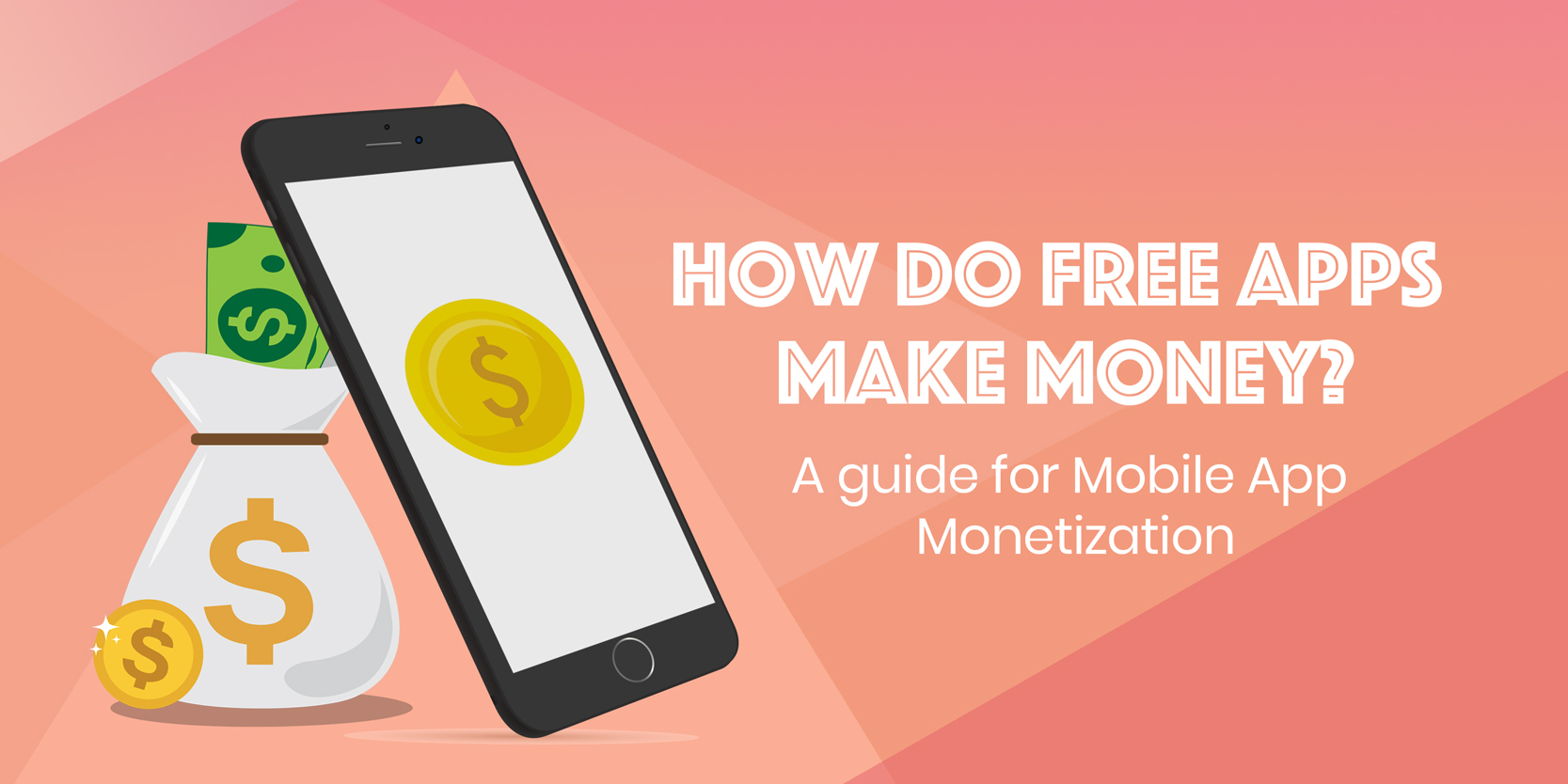 How do free Applications make money? This is the query which would have struck your mind a lot many times, but you might still be searching for an answer to this question. It may sound a bit strange, but many of the top trending applications such as Facebook, WhatsApp, etc. are available without any price.  It is a genuine question which pokes everyone's mind as one thing is for sure that nothing in this world is available for free. While most of the people think that their applications should be available without any cost, how do the App developers get profit out of the applications they make?
To put it plainly, there is a technique of App monetization that allows the developers to earn money from their applications available free of cost. In-app purchases and advertising are the most popular approaches to make money off a free application. But these techniques of monetization require a thorough market research, client research and putting in some knowledge of business to bring about right paid user experience. Below are the things that you need to understand to make money out of your free application.
App Monetization Options
There are numerous App monetization options available with the prime one being in-app purchases and in-app advertisement. Choosing which technique to inculcate depends on the type of application you are launching and the kind of audience you are targeting.
Don't miss: Google Adsense Alternatives For Website Monetization
1

In-App Purchases

In-App purchases allow the user to download the application for free, but certain premium or additional features of the application are available for a particular price. This technique of monetization is commonly seen in mobile gaming apps, in which numerous things such as an extra gear, extra life and so on can be purchased. One of the famous games utilizing this feature is Mini Militia, in which the users can buy additional features or what is called as a 'Pro Pack' by paying for it.

This option of in-app purchase is also found in numerous applications other than that of gaming, such as Apple Music, etc. These categories of applications tend to offer you features that last for entire time unlike the consumables that will be utilized in a short period, and you would need to pay for the same again.

Applications which offer access to certain premium features only after spending a certain amount of money are referred to as "freemium". There are numerous techniques of making an application freemium. You can keep certain features in the paid section, or you can initially cause the user access a particular feature as a trial, and later you can lock it down. The second concept of locking an application requires a lot of backend coding and is quite tedious.

There are other types of free applications, one that allow your renewable subscriptions. It means that you get the premium features upon payment for a fixed span of time. After the time expires you will be required to pay the additional amount to renew the validity of those features.
2

In-App Advertisements

These in-app advertisements are available to the user in numerous sizes, types and positions in the application.  The amount of money that you can generate out of this model of advertisement is based upon various advertising models available. You will get paid differently based upon the number of clicks, country and the most important- the type of ad. Advertisements which are displayed in video format turn to earn more, as compared to the static ads.
Techniques To Increase Your Revenue
While the above two are the most common strategies of getting revenue generated from your free application, the primary motive is to implement these strategies correctly. To do so keep in mind the following things:
1

Pay Attention On User Growth

It doesn't matter what type of app monetization technique you are using, until and unless you have a small user base. A small user base will result in less revenue throughout, either through advertisement or purchases. Therefore, initially, your motive should be to grow as many users as you can which means you need to make your application reach out to masses. It is imperative to decide the conversion rate of your application from free to paid and also consider other factors such as churn rate (recurring subscriptions), lifetime value of a customer, etc. Without reviewing these parameters, you might not be able to increase your revenue substantially.

Don't miss: Increase your website traffic 
2

Find Out Your Market and Your Users

The initial approach to start monetizing is to do your research. By research we mean, that try and understand the market. Go over to the play store and have a look at the apps offered by your competitors and the monetizing approach used by them.  While it might be difficult to get hold of the amount your competitors are pulling in, what you can find is the monetization techniques they are adopting and how are they framing their applications for optical transactions and ad impressions. Once done with the research of your competitor's, the next step is to find out any opportunities they are missing on, and then work on them to produce new strategies of monetization.

Understanding the mind of your users is an important aspect of this research. You need to find out what exactly do your users need, as only a few out of your entire user base, will pay for something extra. Perform a demographic research and present relevant advertising for what exactly do your users require. You will need to maintain a balance between the free features with the paid ones so that neither does it appear useless to the user base nor does it throw away your customers.
3

Try to be Subtle as well as Actionable

Try and remember the use of your application, and don't only focus on monetization. Mobile users tend to be sophisticated, and only a few people will go for applications that are Increase your website traffic. Most of the successful applications tend to work in a way that their monetization techniques appear as a regular part of user interface.

Make sure to focus and develop rapid monetization strategies. Also, if you are growing your user base, then try keeping strategies of monetization at bay, for a while. Whatever, you implement, make sure that the research is done accurately, and the conclusions drawn are implemented thoroughly.

These are just the basic points of How do free Apps make money. Soon, I'll be presenting you with the business and money making models of various Applications like Whatsapp, OLX, etc. in detail.