Top 10 Google Adsense Alternatives For Website Monetization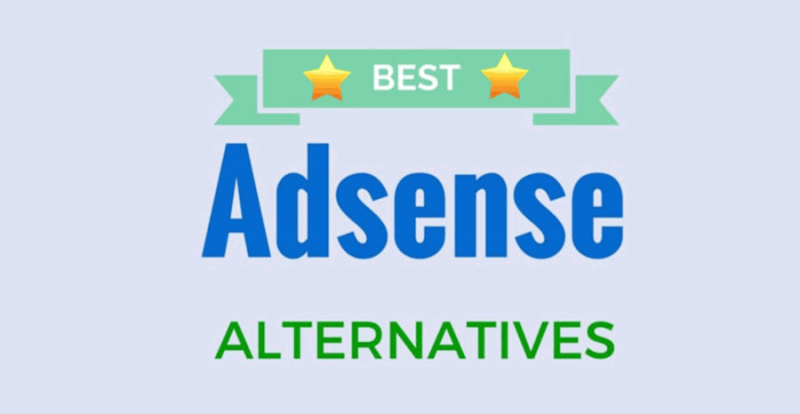 There are numerous people who tend to apply for the Google AdSense account, and their application is rejected. For some people "Your Google AdSense account has been disabled or temporarily banned" is a message that is frequently seen. Every day thousands of users apply for the Google AdSense account, and their applications are rejected, or their accounts are banned. However, instead of cursing Google, what you can do is try and go for some of the below-mentioned alternatives until your website gets good enough that it receives a Google Adsense approval. There are lots of tricks and tips that I have discussed in my prior articles which help you in getting an Approval for Adsense from Google. But if your blog is taking time to get an approval from Google for Adsense, then till then, you can go for various other alternatives available which will help you generating income from your Blog. These alternatives are not better than Google AdSense (which is, of course, the best), but they are decent alternatives to earn something rather than nothing.
10 Best Google Adsense Alternatives for Website Monetizations
So, let's dive in and see what some of the best available alternatives are:
Amazon Display Ads:
You might be surprised to see Amazon Display Ad as an alternative to the Google AdSense program, but this has actually become one of the most sought options by bloggers for monetization from their blog in the year 2016. Quite a few years back this was merely just an Amazon affiliate program, however, over the years with the inclusion of CPM based ads and native ads, it has become one of the most preferred alternatives to AdSense. Amazon display program is best suited for the audience who have a majority of their traffic coming in from US or EU.make money blogging.
Recommended For you
Make Money with Flipkart2. Infolinks:
Infolinks is an in-text link advertisement network that has proven to be a primary source of revenue for bloggers. Infolinks tends to offer you numerous type of advertisement that you can display or attach on your blog. The most mainstream one is an in-content advertisements unit, trailed by an in-frame promotions unit.
This doesn't offer you any contextual Ad as the Google AdSense does, however, this alternative is highly recommended in place of Google AdSense. You can utilize other promotion systems with it to build your website's income. Registering to Infolinks is simple, and they have a small bar of minimum payment value which is again an excellent point to be considered.
AyBoll:
2016 is the period of local publicizing, and on the off chance that you are searching for an alternative way to get some cash, you ought to begin utilizing local advertising. This sort of promotion can be put at any place around the content. What we recommend placing these advertisements either near the sidebar or after any related blog. AyBoll offers local promotion and advertising, and it is very simple to register for AyBoll and start using the same.
Ayboll shows local advertisements, and it is a premium CPA system. You will get paid for any activity on the site, and the payout is gigantic. Their income split is high at 50/50, however considering the way that they pay premium $ per deal, it is beneficial in giving it a try. Ayboll has a threshold payout limit of $100, and the payment is either transferred through net banking or with the aid of Skrill. To put the Ayboll widget, you can utilize the Ad inserter module.
Also Read>> How to make money with clickbank 
Adversal:
Adversal works similar to Superlinks, and you need online visits of 50,000 per month to apply. Least payout is $20, and after the end of 35 days, you will receive payment by the end of the month. Payment modes available are Wire Transfer, PayPal, and ACH. It takes 3-4 days to get your application endorsed, and I propose that you apply for both Superlinks and Adversal. In spite of the fact that Superlinks promotions will pay more, it is additionally great to have another option available as a support.
BuySellAds:
This is again one of the prime alternatives available for Google AdSense. When you submit your blog to BuySellAds, it will automatically display all your blog info which incorporates PR, Alexa Rank and so on.
With a specific end goal to get selected for BuySellAds, your site ought to have a decent amount of traffic (ways to increase your traffic ). When your blog gets the approval, you can set up a place on your blog for BuySellAds, and sit tight for promoters to bid.
Chitika:
Chitika is a program which is oriented and is based on CPC system. There are many advantages of Chitika. To begin with, it showcases advertisements based upon the site content which helps you get more clicks or traffic. Besides, you can alter content color, URL shading, and outskirt shading to mix with your blog appearance. You can likewise pick their referral program and make some additional bucks.
Viglink:
This alternative is best suited for the blogs which are associated with any business or e-commerce website. The concept of revenue generation in Viglink is entirely different from all the alternatives mentioned above. Here you tend to make money by making affiliate sales.
Viglink works incredibly when you have active connections to business or product pages, for example, design store or Amazon. In case, you don't have any such outgoing connection, and you are using words like Apple, iPhone or whatsoever, Viglink will add connections to these words, and you will wind up profiting. What's best about Viglink is that it is managed by Google, and it is an SEO-accommodating promotion program.
Skimlinks :
Skimlinks is the best option to consider as an alternative to Viglink, and it works in a similar way. Skimlinks changes over your outgoing connections into affiliate relationships, and you earn money as soon as any deal happens. You ought to pick amongst Viglink and Skimlinks depending upon the type of blog you owe.
It is conceivable that you could wind up making ten times your current income with Viglink and Skimlinks, as they pay per deal and not for clicks.
Media.net
Media.net is the one of the best options to AdSense as far as ad types are concerned. Media.net is a logical promotion system by Yahoo!, furthermore, Bing, and it offers very high paying advertisements. Besides, the advertisement type included is like AdSense, and on the off chance that you have a quality site; probably getting Media.net endorsement is a matter of seconds.
PopCash
This is again one of the beneficial ad networks that have been in the market for quite some time. This network consists of PopUnder Ads along with a great CPM and inventories for almost every country both for desktop and mobile traffic. You can ask for the payment to be made on the dashboard which will be transferred to you within 24-48 hours.
These are only a portion of the best options to AdSense. If your AdSense is banned or disabled, an ideal approach to cover the lost AdSense income is by utilizing a mix of two or all the more promotion systems discussed above. This article and the options covered in this article will definitely help you in overcoming Adsense issues and earn a handsome income even when Google Adsense is not approved or your blog. I would soon be there sharing the above points individually in separate articles. Till then try the above propitious options availed to you superseding Adsense.